CORONAVIRUS COVID-19 UPDATE
Human coronaviruses cause infections of the nose, throat and lungs. They are most commonly spread from an infected person through:
respiratory droplets generated when you cough or sneeze
close, prolonged personal contact, such as touching or shaking hands
touching something with the virus on it, then touching your mouth, nose or eyes before washing your hands
Current evidence suggests person-to-person spread is efficient when there is close contact.
Preventing coronavirus
Canadians should continue to think ahead about the actions that they can take to stay healthy and prevent the spread of COVID-19 in Canada, including:
Social distancing
Together, we can slow the spread of COVID-19 by making a conscious effort to keep a physical distance between each other. Social distancing is proven to be one of the most effective ways to reduce the spread of illness during an outbreak.
This means making changes in your everyday routines to minimize close contact with others, including:
avoiding crowded places and non-essential gatherings
avoiding common greetings, such as handshakes
limiting contact with people at higher risk like older adults and those in poor health
keeping a distance of at least 2 arms-length (approximately 2 metres) from others
Hygiene
Proper hygiene can help reduce the risk of infection or spreading infection to others:
wash your hands often with soap and water for at least 20 seconds, especially after using the washroom and when preparing food
when coughing or sneezing:

cough or sneeze into a tissue or the bend of your arm, not your hand
dispose of any tissues you have used as soon as possible in a lined waste basket and wash your hands afterwards

avoid touching your eyes, nose, or mouth with unwashed hands
Cleaning
Health Canada has published a list of hard surface disinfectants that are likely to be effective for use against coronavirus (COVID-19).
Although they do not claim to kill viruses such as COVID-19, cleaners can play a role in helping limit the transfer of microorganisms. Health Canada recommends cleaning often, using either regular household cleaners or diluted bleach (1 part bleach to 9 parts water) the following high-touch surfaces:
toys
toilets
phones
electronics
door handles
bedside tables
television remotes
Wearing masks
If you are a healthy individual, the use of a mask is not recommended for preventing the spread of COVID-19.
Wearing a mask when you are not ill may give a false sense of security. There is a potential risk of infection with improper mask use and disposal. They also need to be changed frequently.
However, your health care provider may recommend you wear a mask if you are experiencing symptoms of COVID-19 while you are seeking or waiting for care. In this instance, masks are an appropriate part of infection prevention and control measures. The mask acts as a barrier and helps stop the tiny droplets from spreading you when you cough or sneeze.
STAY SAFE, STAY INSIDE, WASH YOUR HANDS AND KEEP AWAY FROM EVERYONE!  
We are holding a Christmas Party at the Bonar Parkdale Church in Parkdale again this year, but we find ourselves desperately low on funds to make this Christmas miracle happen. 
Please connect directly with Michael T Butch to send your donations, at 647-309-2713.
We are also holding an Annual General Meeting on December 7th at Culture Link offices, 2 PM to 5 PM, and we would love to see you there.  You may donate on this date and renew your membership as well.  
MAIN OFFICE
2340 Dundas Street West, Suite 301
Toronto ON M6P 4A9
T: 416-588-6288
F: 416-588-2435
ROMA HOLOCAUST MEMORIAL - SATURDAY AUGUST 3, 2019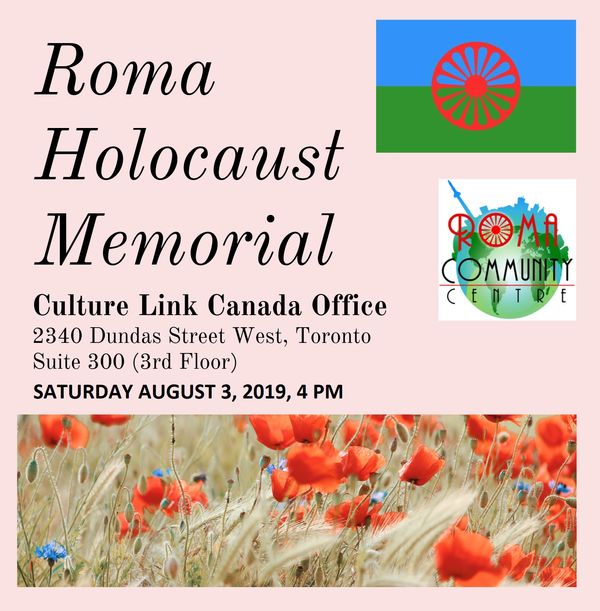 THE TORONTO ROMA COMMUNITY CENTRE ANNUAL CHRISTMAS PARTY, 2018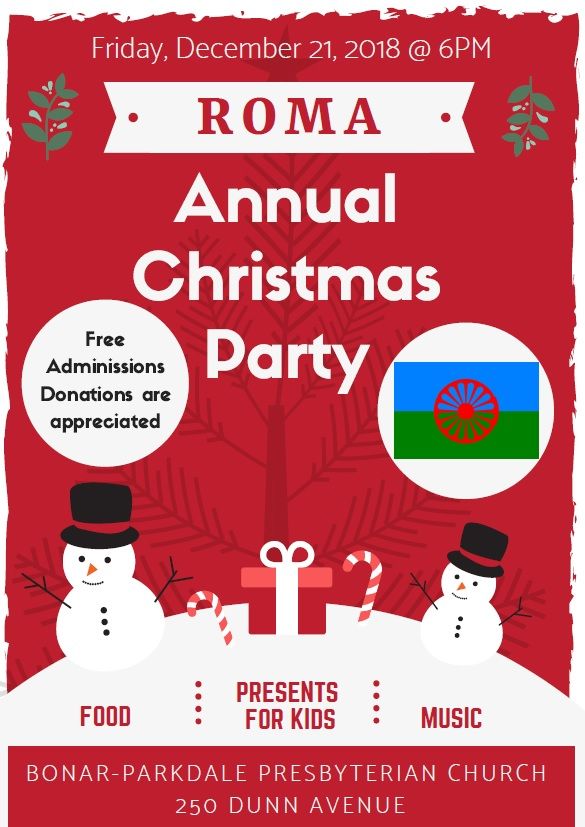 THE TORONTO ROMA COMMUNITY CENTRE ANNUAL GENERAL MEETING, 2018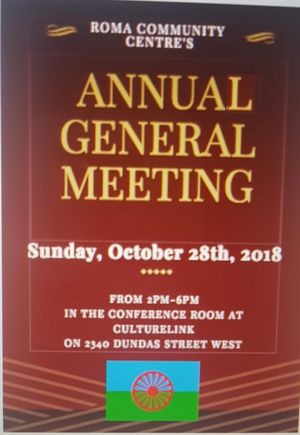 SUNDAY OCTOBER 28, 2 PM - 6 PM,

ALL WELCOME!  

2340 DUNDAS ST WEST, 3RD FLOOR, SUITE 301 - BOARD ROOM
We will be taking new and existing membership names, and voting on current issues involving the TRCC.
As well, please connect with us if you would like to volunteer for this event.
SUNDAY APRIL 9 - INTERNATIONAL ROMANI DAY CELEBRATION
International Roma Day Celebration from April 8
Annual AGM and BBQ Event, August 7, 2016
Holocaust Commemoration Event at The Revue Cinema, August 2, 2016
MEMBERSHIP REGISTRATION FORM
Tomas and the Gypsy Violin